TECHNICAL GLASS
Combining a host of technological innovation with the clarity of glass allows us to create unique and truly beautiful glass products, adding a modern edge not only to homes and offices, but in wider environments such as corporate events and showrooms.
With architects, interior designers and building contractors appreciating the benefits of these products, we're frequently introducing new concepts such as Switchable, Power and Magnetic glass to cater for their needs. These glass products can be produced, supplied and fitted by our knowledgeable staff.
POWER GLASS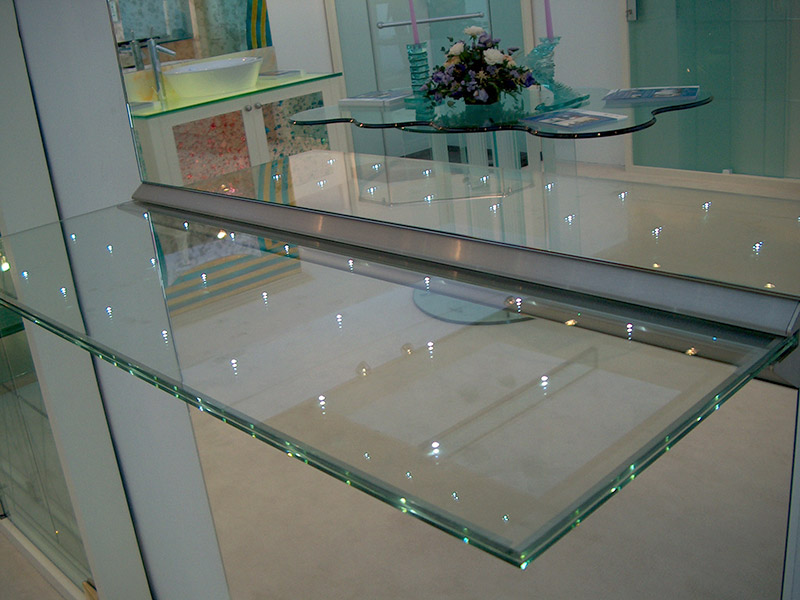 Through the development of LED lighting technology, it is now possible to merge glass and light without visible wires and generate fascinating light effects.
Light-emitting diodes are embedded inside resin-cast laminated glass, and can be placed randomly or geometrically to form abstract designs or logos in shower screens, balustrades, or glass floors, creating a wonderful atmospheric environment.
The technology can also be used to create scrolling computerised information and graphics at events and exhibitions.
LED's are available in white, blue, red and green, and are light-radiating on both sides.
SWITCHABLE GLASS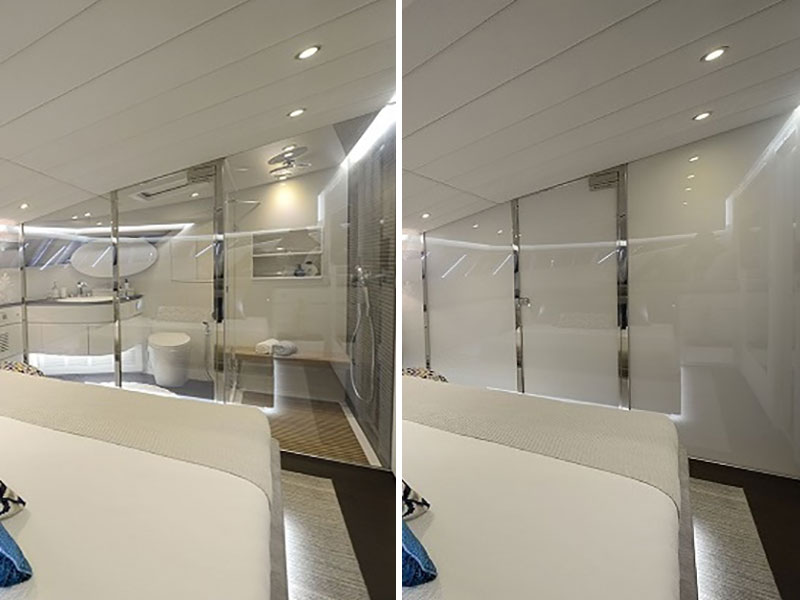 Switchable glass offers a contemporary alternative to blinds, curtains and dividing walls. An electrical current is passed through a Busbar, which is connected to a laminated film between the glass. This aligns the crystals and transforms the glass from opaque to transparent. The current is then switched off to return the glass to its opaque state.
Switchable glass is extremely versatile, and can be used anywhere, from conference rooms to bathrooms. It can also be combined with other interlayers to make the glass fire-resistant, turn it into a security glass, or improve the acoustic properties of the glass.
TV MIRROR GLASS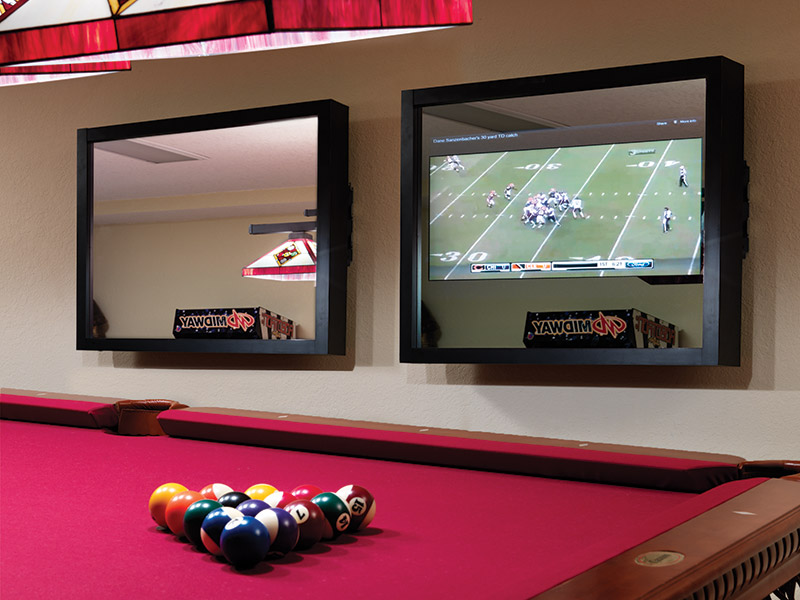 This recent development in glass manufacture uses a coated glass product. When placed in front of a flat-screen television, it gives the illusion of a combined mirror and television screen. When the space behind the coated glass is dark, it performs as an elegant mirror. As light from the television penetrates the coated glass, its reflective qualities are lost, giving an unrestricted view of the TV screen.
This space-saving design reduces the copious amounts of floor or wall space required by today's large-screen televisions. Housing the television behind the mirror cuts clutter and significantly improves a room's appearance.
MAGNETIC GLASS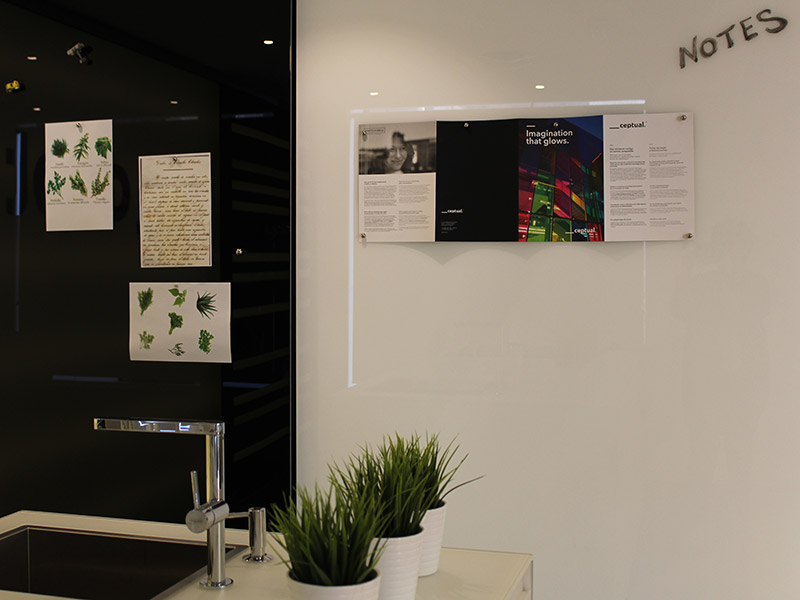 Magnetic glass offers the opportunity to add something quite unusual to your residential or commercial property. As well as being magnetic, the glass can also be written on like a whiteboard. It is made to be completely bespoke, allowing you to choose any design, colour and size. Whether it's a shopping list or a business presentation, with magnetic glass you can display items in style on its simple wipe-clean surface.
ANTI-REFLECTIVE GLASS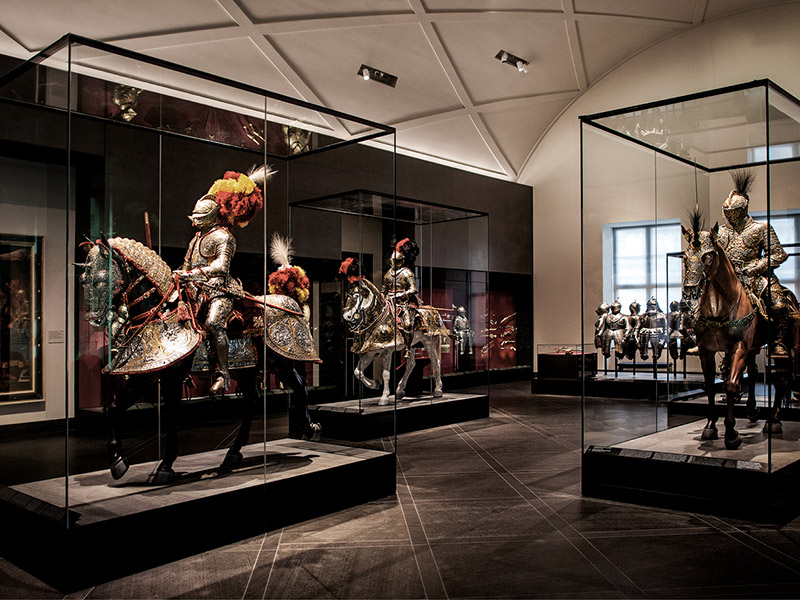 The view of objects kept behind glass can be obstructed by unwanted glare and reflection. Preedy Glass supply low-iron glass with an anti-reflective coating for clear and unrestricted viewing during the day and at night. Its durable high-tech coating reduces reflections to 1% and allows for up to 98% of light to pass through unhindered.
Ideal for display cases, shopfront windows, and in picture frames to highlight the beauty of the artwork behind.
MATERIAL LAMINATION
A recent addition to the Preedy Glass repertoire, material lamination now allows our customers to laminate any fabric or flat material within our glass. From leaves to carbon fibre, pretty much any flat product is possible. Material lamination can be used to introduce a striking design into a room environment or for increased privacy. It's an incredibly versatile glazing option, bespoke for every customer.
All our products are available through our 'Supply Only', or 'Measure, Supply, & Install' service.