NEWSLETTERS
Welcome to the Preedy Glass newsletters, which we hope you find inspirational. If you would like to receive our newsletter directly to your email you need to actively opt-in below. It will keep you informed of our latest products and services, as well as recent innovations in the glass industry.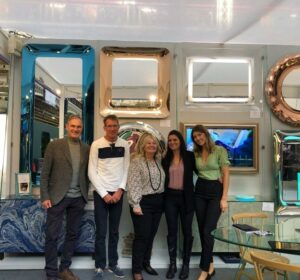 Decorex Exhibition
Thank you to all those who visited Preedy Glass at the Decorex exhibition on the 9th – 12th October. It was nice to see so many new and existing customers.
It was a great opportunity to showcase our new Visio collection mirror range, as well as our current range of antique mirrors, marbled glass, textured glass, anti-reflective glass, tinted mirrors and our Decorlux range.
Alice in Wonderland
Preedy Glass supplied and installed this 3.6m x 3.6m stained glass Crittall screen in Oxford, all designed with an Alice in Wonderland theme.
New stained glass can be designed and built by us according to your taste and requirements. A visit to the site of the intended work will allow us to measure up and provide a quote and lead time for the project.
You will also be given the opportunity to look at our portfolio of past work and discuss ideas and themes for the new work.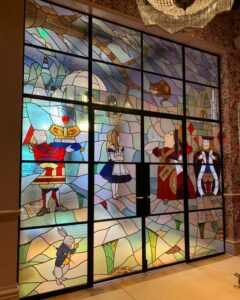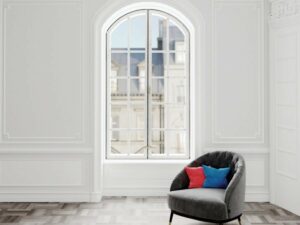 Fineo Vacuum Sealed Units
Our new 'Fineo' vacuum sealed units are proving hugely popular.
Fineo can be retrofitted into any timber framed window, and with its outstanding thermal insulation while harnessing more free solar energy, increased acoustic attenuation performance and being 100% recyclable, Fineo units are the perfect investment designed to perform for decades.
From January, Preedy Glass will also be offering toughened Fineo vacuum sealed units.
Christmas Opening Hours
23rd December: 7am-11am
24th December – 2nd January: Closed
3rd January: Open as normal
Preedy Glass would like to wish all our customers a Merry Christmas and a prosperous New Year. Thank you for your continued business and support.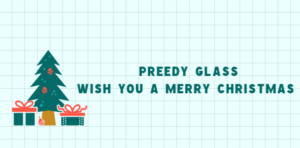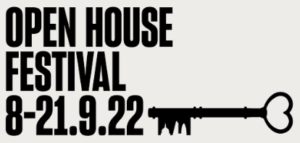 Open House
Open House Festival is a two week celebration of London's housing, architecture and neighbourhoods.
On Saturday 10th September, Preedy Glass will be opening their factory to the general public for guided tours, commencing at 8am, and then every hour up until the last tour starting at 4pm.
After such great feedback on our 2019 tours, we are looking forward to welcoming you again.
Decorex Exhibition
Preedy Glass are delighted to be exhibiting at Decorex 2022 to showcase our new Visio collection and Pre-Mag magnetic white board range, as well as our marbled glass and antique mirror range.
Please come and visit us on stand B163 on the 9th – 12th October. We look forward to seeing you there!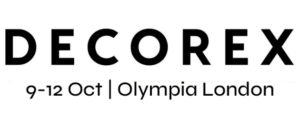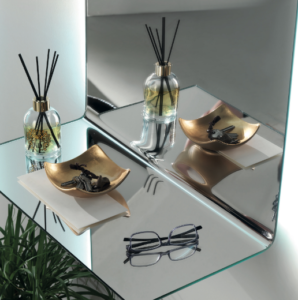 Visio Collection Series
Preedy Glass have recently introduced a Visio Collection of artistic and decorative mirrors.
The 'Komodo' mirror is from the 'Modern Mirrors' range. It is a LED illuminated wall mirror and shelf, uniquely manufactured from one piece of curved mirror, with a touchless on-off sensor.
It is available in a silver finish, and comes in various sizes, as can be seen on our website here.
Fineo Units
Preedy Glass are now an approved supplier and installer of FINEO vacuum units. Fineo's slim profile means it can be retrofitted into any timber framed window, negating the need to change your window frames, but still achieving outstanding thermal insulation. Here are just some of the many benefits of using FINEO units:
  Fineo keeps older properties warmer and quieter, whilst maintaing the original aesthetic of the period property
  8 times more efficient than single glazing, and 12.5% more efficient than a 36mm triple glazed unit
  Slightly better light transmission than double glazing, and better light tranmission than triple glazing
  34% perceived noise reduction compared to single glazing, and 18% better than triple glazing
  Better solar gain when compared to triple glazing, and just slightly less effective than double glazing
  Peace of mind with 15 years guarantee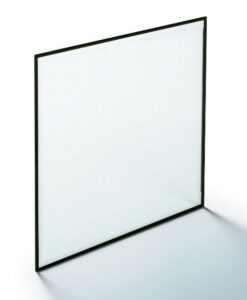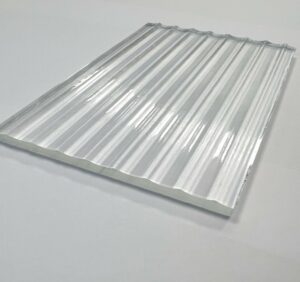 10mm Low Iron Reeded
Preedy Glass are pleased to introduce our new 10mm low iron reeded glass. Stock sheet sizes of 1830mm x 3300mm are very large compared to traditional obscured glass, making it ideal for shower screens, doors and full height glass partitions. Please get in touch for any prices or samples.
Composite Mirrors
A great example of our Venetian composite antique mirrors, supplied and installed with bronze floral rosettes.
Thank you to our customer, Birch Dot House, for the images. Please browse our full range of antique mirrors at www.preedyglass.com, or visit our shop to discuss your design ideas.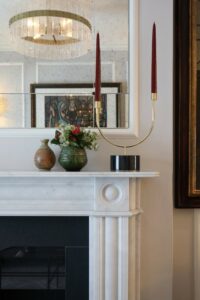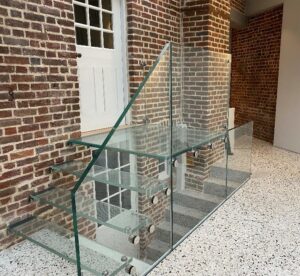 Staircase Installation
Preedy Glass supplied and installed this structural glass staircase and balustrade in London. This project utilises triple laminated low iron toughened glass to achieve an unobtrusive, minimal design.
Stainless steel fittings connect the individual panels and the base channel has been recessed for a fully frameless looking, allowing for a seamless transition between old and new.
St Regis Hotel – Singapore
These beautiful Latina antique mirrors were supplied and installed in a hotel in Singapore.
Our range of 25+ antique mirrors combine both form and function, by incorporating abstract designs and a vast range of colours to suit even the most contemporary properties.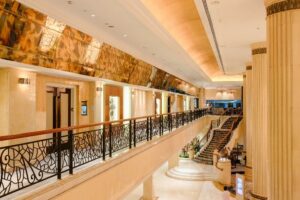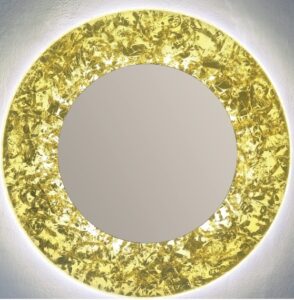 Visio Collection Series
Preedy Glass will be giving a better insight into their beautiful new Visio collection range, by showcasing a new mirror in each newsletter.
Lanai: This round mirror consists of an extra clear 12mm glass surround with manually applied gold leaf. The second central piece is silver mirror. All Lanai mirrors come with LED illumination, touchless on-off sensor and touchless dimmer. This is available in gold leaf on a white background, and in 900mm diameter.
Welcome to the Preedy Glass newsletter, which we hope you find inspirational. It will keep you informed of our latest products and services, as well as recent innovations in the glass industry.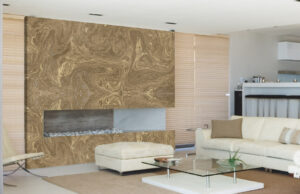 Marbled Glass
Preedy Glass are pleased to introduce our new Atoll Marbled Glass range, conceived for creative individuals & design professionals. Combining traditional artisan techniques, and cutting-edge innovative technology, each piece in the Atoll range has been individually created and refined, and has the name of a unique Pacific Atoll, chosen to remind us of its origins.
Its ranges of thicknesses from 4mm-19mm glass, adds a flexibility which is not available in stone, and it is totally recyclable, and non-porous, making it non-staining. Applications include luxury splashbacks, furniture and wall covering solutions.
Visio Collection
Preedy Glass have also recently introduced the 'Visio Collection' – a new and innovative range of frameless mirrors, with surrounds manufactured from curved glass and hand silvered, categorised into modern, decorative, golden leaf and wall art. Some of these mirrors are available with LED illumination.
All mirrors in the range are supplied with wall mounting brackets, allowing installation in both horizontal and vertical positions. Models which can also be installed on the floor are supplied with two floor supports. Every mirror is a limited production bespoke item with an obsessive care for detail.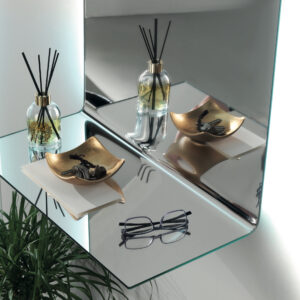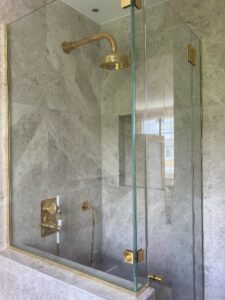 Shower Enclosures
This bespoke shower enclosure was supplied and installed by Preedy Glass. The glass is 10mm thick, and supported with polished brass clamps and u-channels to match the client's current bathroom design.
Our shower enclosures can be designed and constructed for use in bathrooms of any size and shape, from the small and slightly challenging to the expansive and palatial. Coupled with fittings from our in-house glass hardware department, such as polished chrome, brass and stainless steel, these contemporary bathing areas mean our showers are no longer a place to rush. Instead, they become a place to indulge.
Tinted Mirrors
Preedy Glass supplied and installed these 6mm bronze tinted mirrors to our customer for a residential property in London. The recess was lit up using LED strips that were placed carefully besides the mirror, and 6mm low iron shelves were placed in front.
Mirrors can be used to create the impression of space, and to maximise light sources in commercial surroundings or in the residences of our private customers. At Preedy Glass we have an extensive mirror range, including diffused, acid-etched, tinted alternatives, and specialist products such as Spymirror.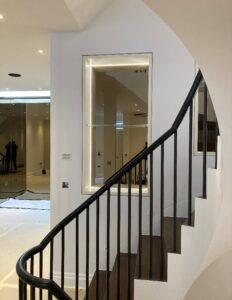 Welcome to the Preedy Glass newsletter, which we hope you find inspirational. It will keep you informed of our latest products and services, as well as recent innovations in the glass industry.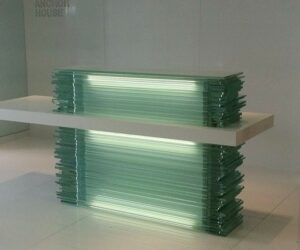 Stacked Glass
Preedy Glass supplied and installed this reception desk in an office building in Chelsea. It is made from 73 different size pieces, with each panel stacked on top of the other.
To prevent the pieces moving, the back has a CNC polished cut-out, which also created space for the lighting.
Light It Up
Lighting glass can create vibrant and eye-catching effects. In this instance, Preedy Glass would supply low-iron glass as this has greater optical clarity, allowing more light to pass through the edges.
Typically, we would sandblast the front edge to diffuse the brightness of the LEDs.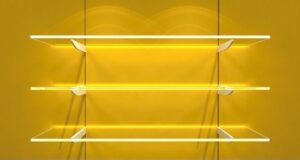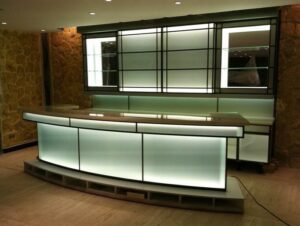 Installations Abroad
Preedy Glass supplied and installed this bar unit in Saudi Arabia. In addition to the acid-etched glass, we supplied the joinery, controllable LED's and the automatic doors.
We helped the client realise the potential of their design concept and bring it to reality.
Antique Mirrors
Preedy Glass supplied and installed this 6mm Venetian antique mirror and brass shelf supports to a tea room in Barnes. The brackets were made in two custom sizes to fit the customers display requirements.
We have recently uploaded videos of each antique mirror onto our website, to give customers a better understanding of how these mirrors look in situ https://preedyglass.com/videos/#antique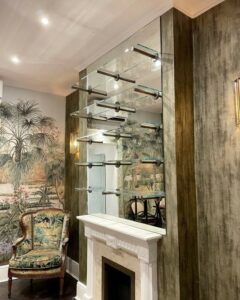 Welcome to the Preedy Glass newsletter, which we hope you find inspirational. It will keep you informed of our latest products and services, as well as recent innovations in the glass industry.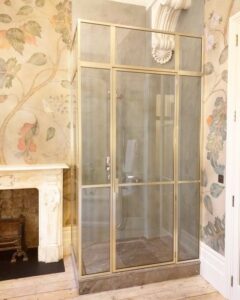 Bespoke Shower Enclosures
Preedy Glass installed this prefabricated unit at a private house in London. These units can be made to the client's design in a variety of finishes, including black, bronze, gold, chrome, brass etc. & are a good option if the client is looking for a 'crittal' style shower unit.
Decorlux Range
A brilliant example of one of our Decorlux products 'Mississippi' in use, which was supplied to K&I Kitchens.
Our Decorlux range is inspired by damask fabrics and many other textured materials. They create striking design statements that add warmth and boldness to any interior, thanks to their three-dimensional effects and vibrant colours.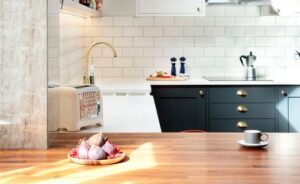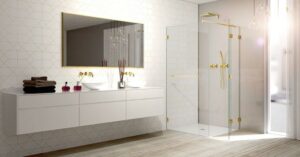 Hardware Trends
Preedy Glass have an extensive hardware range offering numerous finishes. In particular, gold has proven to be a popular finish for use on frameless glass doors.
Here is an example of the hinges from our Flamea range, which will give your enclosure a truly contemporary look.
Contemporary Hardware
Preedy Glass are an approved supplier of the Porta Pivot door and partition system. The pictured system is designed specifically for fixed glass partitions, and is available in a black, bronze, silver and stainless finish.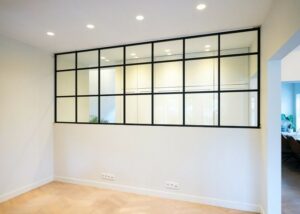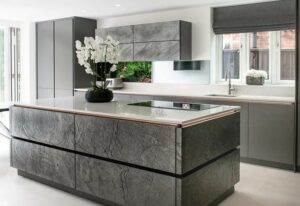 Mirror Range
Preedy Glass supplied this 6mm grey tinted mirror splashback to K&I Kitchens who created this beautiful kitchen.
The options available in our mirror range are extensive, including diffused, acid-etched, tinted alternatives, and specialist products such as Spymirror.
We also offer low-iron mirror, which has more clarity and reflective qualities than standard mirror enhancing the true colours of its surroundings.
GDPR Compliance
While we hope our content appeals to you, it's essential that if you'd like to receive newsletters via email from Preedy Glass, you opt in here to comply with GDPR consent requirements.